As I write this, I'm sat in my parents' house in England where I'm spending a few days before I jet off back to Poland. Yep, the Castlefest blues have set in quite thoroughly by now! In short, the weekend was quite fantastic, there's no doubt about that, and waiting a year until next time – well that's simply too long.
So, before I get into details, the general good news… I broke the curse! For the past three years I have missed part (or a lot) of Castlefest due to illness but this year I made it from start to finish without a blip. Hurrah! Now, onto the detailed post…
I actually enjoyed camping. There, you have it in writing. I get super cold at night even in a house so camping tends to be tantamount to torture for me. I was lucky this year in that Heleen has a super insulating tent and her brother kindly drove us to the grounds meaning that I could bring enough fluff to create a veritable nest. The atmosphere on the campsite is always delightful so I was pleased that I could enjoy it in all aspects this year. I mean, having people of all ages sat around at all hours chatting, playing instruments etc… it's wonderful.
As for the festival proper, I actually got to look around a bit more than in previous years as I planned to see less in terms of music. It did mean that I had a bit more flexibility with going to extra shows (eg seeing Coppelius twice). It also meant that I managed to look around the traders a bit more. My bank account may not thank me for that! In all fairness, I only bought myself a couple of things and I am very pleased with them. I could, however, have bought a lot more. There are some unique things to be found and if you're into anything fantasy/reenactment/alternative then Castlefest is always a very dangerous place for your wallet!
And now, onto the musical aspects…
Opening Concert
I knew Coppelius' music and knew that they were supposed to have a good live show so I wanted to see them. That was how I went into the opening concert. I didn't realise quite how much I was going to enjoy them. In fact, Heleen (who didn't know them at all before) and I rearranged our plan for the weekend in order to see them again on the Friday. Both shows were absolutely awesome. Seriously, it feels that the band are having so much fun on stage and it is quite simply contagious. I also have a new respect for just how skilled these gentlemen are as musicians. Also cello. This weekend had a lot of cello. I'm a bit sad that they're taking a break now, to the best of my understanding, because I really do want to see them again soon.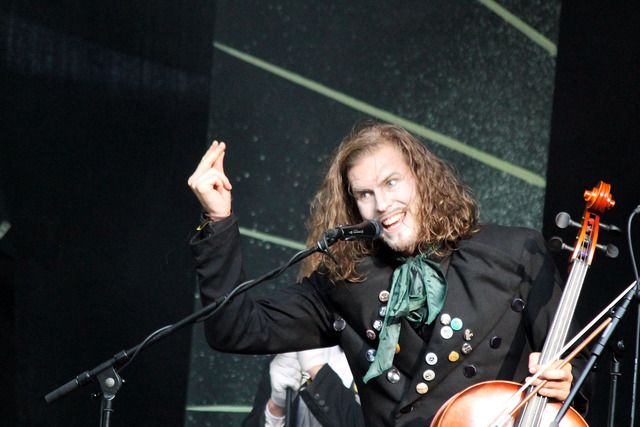 We had planned on seeing Metusa and Prima Nocta during the opening concert but that didn't work out quite so well. We sat back a bit for Metusa but did listen. We decided to see Prima Nocta on the Saturday because we wanted a good spot for Saltatio Mortis. Okay, I wanted a good spot for them. They're a band I've listened to for quite some years and wanted to watch their concert from a good spot as it was to be the first time I saw them. Anyway, we ended up missing Prima Nocta on the Saturday too which was kinda sad but it was just too crowded.
I did, however, manage to see Saltatio Mortis and it was a great concert. As I discovered when asked by Heleen's mother, I don't really know how to describe their music if you don't already know them… bagpipe folk rock, I guess. Anyway, their show was great fun with enforced audience participation. That was a little less fun as I felt like my arms were going to fall off from clapping by the end of the evening! Oh, and the fire use was lovely. I mean it was effective, I guess, but it was certainly a good way of warming up before crawling to the tent! For all I'm describing this set in a rather tongue in cheek fashion, it was awesome and well worth the years of waiting. I was also increadibly lucky as I managed to get my scrapbook page signed by the band. I only painted about five pages this year due to time constraints (focusing on favourites I'd not done pages for before) and really didn't expect to get the Saltatio Mortis one signed but it worked out so yay.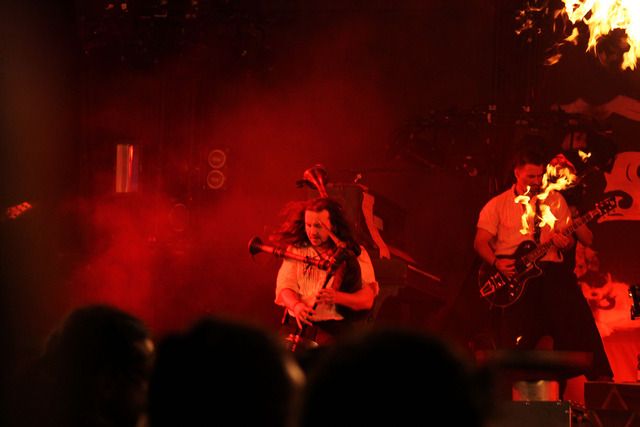 Friday
Friday opened, for me, with Adam Hurst's set. Adam Hurst is a cellist who I've listened to for a little while now and I really like his music. It's quite exceptional and really great to study or paint to. Seriously, he's one of only three artists that I (regularly and successfully) listen to while doing my university reading. So, as you can guess, I was quite excited for this set and I thoroughly enjoyed it. It was nice to sit in the shade and just listen. I would have loved to lie back with my eyes closed and just listen (it's that kind of music) but I was so tired that I was afraid I might fall asleep and that simply would not do! Both Heleen and Winnie bought a CD so, as neither of them knew his music before, I think that's a great sign as to his talent and the quality of this performance!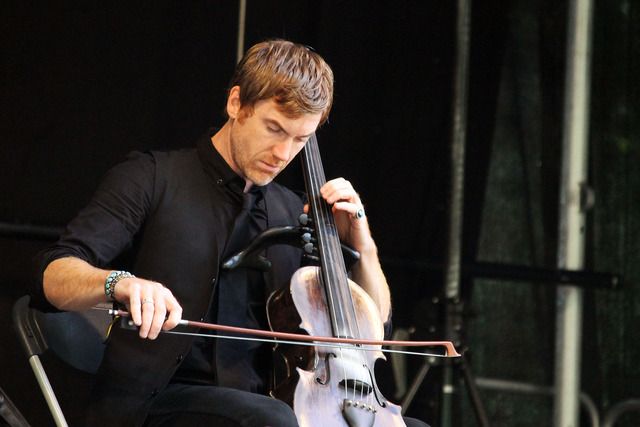 After that we gravitated towards SeeD who Heleen and I have seen together before, a couple of times, in fact. We knew what to expect this time and we got it with a high energy performance. We didn't really expend much energy, truth be told, as the sun was intense and us ghosts had to hide in the shade. That didn't mean that we couldn't appreciate the music, however. The highlights of SeeD's performances will always be the crazy fast whistle passages and the song "Gathering Mushrooms". This set contained both.
Closing of the Friday was Faun's set. I decided not to take photos during the concert as, while they are lovely to photograph, I just wanted to enjoy the music (I actually felt this way quite a bit this weekend, which is odd for me). Anyway, enjoy the music I did. I think that we all know that Faun's shows are consistantly high quality and this one was no exception. They played basically all of the 'fan favourites' as well as treating us to a preview of their new album, coming out on the 19th of this month…. why not in time for Castlefest? I think one of the highlights for my group was the hilarity that ensued as part of the audience participation before Walpurgisnacht. My quote of the weekend comes from Oliver at this point: "Just the look of [Niel's finger] will make you sing like you are a very fertile elk". Of course, the other main highlight for us, as always, was Hymn to Pan which is just so powerful – and emotional – when you get a huge audience singing along. Faun also did a signing after the show and, as always, were charming.
Saturday
Saturday 'morning' started with a bit more energy than the previous morning with Pyrolysis' set. It was actually not in the morning but we'll ignore that fact. I've seen Pyrolysis play a few times now and, each time, they only increase in quality and in energy. I guess I'll write more about them later as I also saw them on the Sunday evening, late. However, it does bear mentioning that they very kindly signed my scrapbook after the show and were thoroughly lovely.
Having started the day with a bit more energy, it only stood to reason that we should have a bit of a chilled moment and this was courtesy of Kaunan. While they do play songs for dancing and the like we decided to sit in the shade and just listen and relax a bit. I have to admit that, as I was listening, I couldn't help but feeling that the music would go a lot better with a cold winter night and a roaring fire… I guess that's just a side effect of all this Nordic music! All joking aside, I do really like Kaunan's music and I'm looking forward to when they release a CD. I'm also hoping to see them again when they come back to the Netherlands in a few months.
Next up was one of my favourite bands, Cesair. I have actually lost count of how many times I've seen them since moving to the Netherlands – seriously, being able to easily access good music is one of my favourite things about studying in Amsterdam – but I always look forward to seeing them and have not been disappointed to date! This show was particularly interesting as, not only was it an enjoyable mixture of newer and older pieces but with quite a few guest musicians  which meant we had some different arrangements too.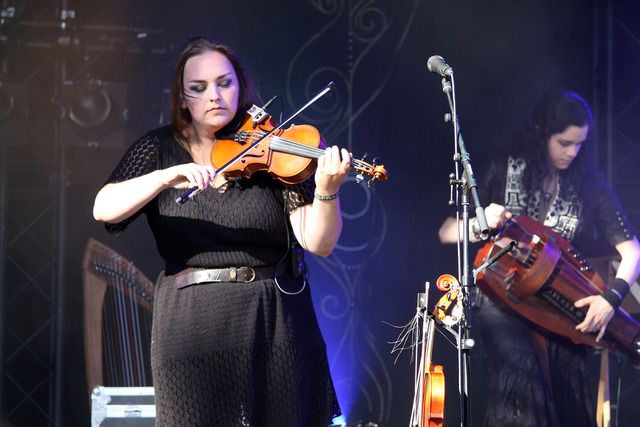 After Cesair's set it was time for the burning of the wicker creation which, this year, was a dragon. I actually think this was one of my favourite designs for a few years! As always, it's a powerful moment and something around which the whole weekend centres. During the weekend people can make offerings and/or leave notes with things they want to leave in the past or focus on in the future. On the Saturday evening, the creature is burned and the offerings with it. This year we were closer than I have been since my first Castlefest (I was much too close that year, it was way too hot!!) which meant it was a different experience. I realised as the ash fell down like snow that I was literally being covered by people's unread secrets and wishes for the year ahead. That was actually very profound for me.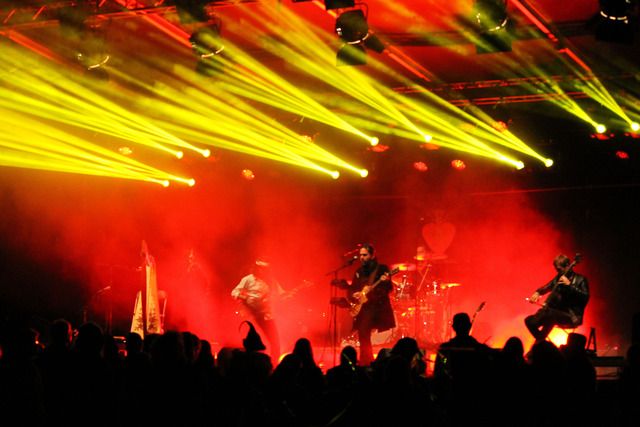 In the evening, Heleen and I decided we would go and check out Woodland as Adam Hurst had mentioned them to us the day before. We were joined by Winnie. None of us knew what to expect at all but at the end of the set we were all pretty sold. Quite literally, as CDs were purchased. Their music, inspired by the world of faerie, manages to escape the lyrical clichés that many other groups in that vein fall into while the music is simply lovely. As Winnie said, there is something quite inspiring about the sound and we both feel listening to the CDs may well inspire our own creative processes. It's great when you find music that has that effect. Oh, and I liked the light tech for this set too! We also briefly met the band after the show to get the CDs signed and they were absolutely lovely – you all know how highly I rate manners so it had to get a mention!
Sunday
Getting up early enough for The Moon and the Nightspirit was slightly painful, I have to confess and we might have been a little bit late to their set. It was definitely a good way to wake up though. There's something really quite peaceful about their music that resonates on a deep level. It was even worth standing in the rain to watch.
Next up was Shireen. I don't know quite how to classify Shireen in terms of genre. Their facebook page says Witchpop… whatever it is, there's a certain drama to the sound that is quite enjoyable and also quite different from most of the other Castlefest bands which still being similar in some way. I don't even think I'm making sense right now so if you understand me then you're doing very well! As well as their usual dramatic sound they looked striking on stage this year with large amounts of dark makeup. I finally bought their EP and am looking forward to, hopefully, a full CD some time soon.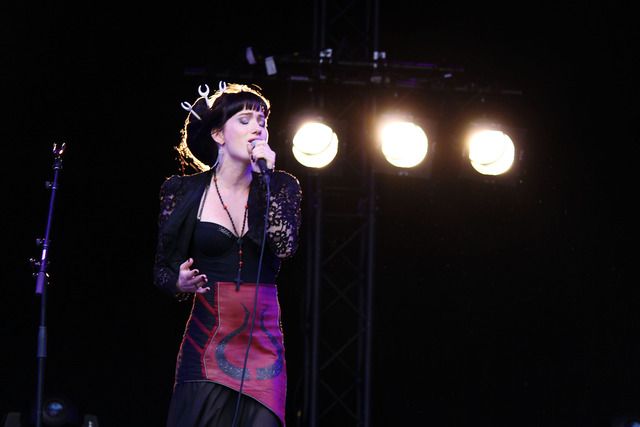 After Shireen it was Irfan. Now, Irfan is another part of the Castlefest curse for me as I've wanted to see them the last two years but was ill during their set. Well, this year I finally made it. I started standing up the front but soon moved to sit back in the shade and just listen. I don't think I need to tell you how lovely their music is and the quality was just as high in the live performance as in their recorded CDs. Truly wonderful. I'm so pleased that they lived up to my rather high expectations and I will see them again soon, for sure. Something that is also really worth comment is how lovely the band members are both on stage and off; they are incredibly talented but come across as humble too. They also signed one my scrapbook pages and, to be completely honest, they were so kind about it that I was thoroughly overwhelmed.
The final act of the festival proper was Feuerschwanz. I was looking forward to seeing them too, as I had listened to their music a bit and was aware, like with Coppelius, that they had a good live show. However, I was so tired that I almost went back to the tent. Luckily, my talking about them had made Heleen curious and she wanted to stay for a couple of songs at least. Grateful to her because I soon perked back up and enjoyed their set so much. They are great performers who really get the audience involved. From having audience members on stage to act out the song to coordinating dance moves for the whole audience… it was a lot of fun. I didn't really expect to be on the wall of a mosh pit at a folk festival but it made me realise how long it's been since a real metal gig! Oh, and then there was the crowd surfing fruit (and sailor in a dingy)…
However, even if Feuerschwanz closed the festival itself, it was Pyrolysis who played the final set, over on the camping. This was seriously an awesome way to finish the weekend as it was quite simply so much fun. Even the little blip whereby the amplification cut out didn't cause an issue. Everyone sat down on the floor for a while as the band played acoustically. It came back on mid song and everyone got straight back up and back to dancing. By this stage, a fair few people were on the tipsy scale but in the good fun, friendly way and that also assisted the evening to have an awesome atmosphere. Even I had a bit of a dance…. and I am aware that there is a video where this can be seen but don't think I'm linking you!
So, this was an exceptionally long post and I'm sure it ended up with a bit of verbal diarrhea but, long story short, Castlefest was awesome. Bring on next year!!
As always, I have some more photos on my facebook page here