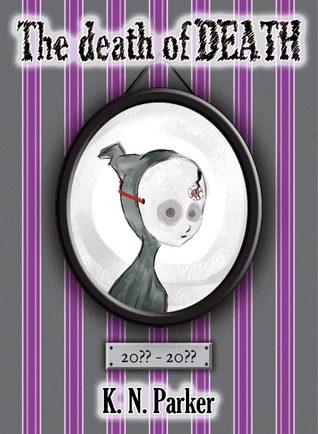 Rating: 3/5 stars

Plot:
"
Death guides usually have rather normal names like John, Mary, Harry, and Jessica. And even ones not quite so normal, like Bartholomew or Ambrosia. They also have the most interesting tales behind their deaths. But one particular death guide has a few problems: she cannot remember her name or the details of her demise, and thus has no story of her own. One fateful night, she meets a young girl that may change her death forever.

Inspired by and in the style of Children's tales of old, The Death of Death is a tragic, yet sweet little tale about loss and acceptance.

Suitable for ages 12 and up.
"
Okay, I'll admit it, I didn't really like this story to start with. The style didn't really catch me and therefore none of the earlier bits did either. I therefore put this book 'on hold' for quite a few weeks.

However, having nothing else at hand, I gave this another go, picking up from where I left off and really did enjoy it. I'm not sure if I just wasn't in the right mood for it when I first tried or whether chapter one doesn't appeal to me but if anyone else happens to be in the same position, press on.

What follows is a heart-warming story including miniature tales belonging to various characters, joined by overarching themes. It's certainly worth a read!
I've also put this book on my 'teaching English booklist'. While the recommendation says that the story is for ages 12 and up I would say that it's suitable for quite a bit younger. It does deal with slightly darker themes through its very nature but they are not dealt with in a particularly dark style.
I downloaded the kindle version while it was free from Amazon, although it is no longer on promotion.